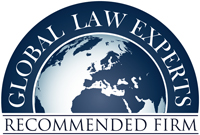 Nuestro despacho ha sido escogido y galardonado por la guía premier de la firma britÁnica "Global Law Experts", con los premios "Recommended Firm" y "Recommended Attorney".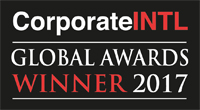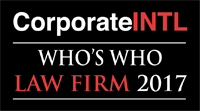 Our firm has been chosen and honored by the prestigious law firm guide "WHO'S WHO".
Laboral Law

During our trajectory, we have represented our clients in more than 300 labor lawsuits throughout Mexico, obtaining an outstanding record in the awards obtained.

The purpose of the office is to provide the necessary legal tools to prevent any labor dispute. We are convinced that the human resources in a company are the most delicate, and therefore, must have a preventive advice on a constant basis.

Our labor lawyers are responsible for providing, among others, the following services:

• Drafting of working regulations
• Planning and development of contracting and compensation schemes for national, foreign and expatriate workers
• Defense of labor claims before the Local and Federal Conciliation and Arbitration Boards and Amparo trials.
• Comprehensive audits to identify and prevent labor contingencies in Mexico
• Advice for the proper compliance with the provisions contained in the Federal Labor Law
• Elaboration of individual work contracts
• Elaboration and negotiation of contracts with human resources companies
• Prevention of occupational hazards in Mexico
• Advice on personnel transfers and implementation of employer substitutions

This firm has a strong labor market approach, as we are convinced that one of the most important links in the chain that shapes companies is undoubtedly the issue of labor law. As lawyers experts in labor law we understand that the most important is to provide the appropriate legal instruments to our customers, to reduce the degree of occupational risk; We therefore seek to provide our clients with the best individual labor contracts, internal work regulations, elaboration of a health and safety commission, productivity commission, administrative acts to sanction non abiding employees, and in general any documents required to reduce the risk of a trial labor.

Our labor lawyers have extensive experience in trials of this subject and have received various courses of specialization in order that our clients have the certainty that their affairs are backed by capable and specialized professionals. In order to improve the labor market approach of this law firm, we have implemented administrative audits in labor matters, in order to corroborate the company's due compliance with labor regulations.

Cases of success:

• The firm has intervened in the massive dismissal of workers, from the negotiation of labor agreements, to the drafting and signing of the respective agreements.

• The firm restructured the entire labor issue of a multinational company, providing it with the necessary legal instruments to shield the company in that matter.